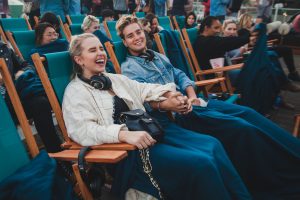 BLVD Place // 1700 Post Oak Boulevard
On the rooftop of BLVD Place, amongst skyline city views, curated movies from cult classics to new releases are shown on a giant screen at sundown. On starlit evenings, moviegoers enjoy the outdoor films on comfortable lounge deck chairs for one or love seats for two with adjustable seat heights, pillows and blankets. A complete dinner menu by Good Dog and a full bar along with classic movie fare (free refills on popcorn) completes the 18 and up cinematic experience.
BLVD Place // 1700 Post Oak Boulevard, #190// (281) 605-4030
Dubbed 'crave-worthy food,' this lively restaurant offers a chef's choice daily pizza and fresh pasta made from scratch. Always a fun option for weekend brunch, lunch, happy hour, dinner or desserts, the choices are vast.  Menu highlights include Truffle Garlic Bread, Vibrant Seasonal Vegetable Salad, Burrata Tortellini, Short Rib Radiatori, and the classic Chicken Parmesan. Save room for delectable desserts such as Salted Carmel Budino and the Hazelnut Torta. Al fresco or inside dining sports an energetic vibe.
The Galleria // 5015 Westheimer Road #Suite A2429// (713)360-3262
Founded by champion and celebrity dancers—Maks & Val Chmerkovskiy, and Tony Dovolani from Dancing with the Stars—Dance With Me dance studios offer the ultimate dance experience blending fun, ease, and comfort with quality dance instruction— in the most beautiful dance studios. Salsa, Tango, Hustle, Swing, Walt, Rumba, Foxtrot, Kizomba, Hip Hop, you name it, their dance professionals will teach private or group lessons guaranteed to intrigue beginners and inspire over-achievers.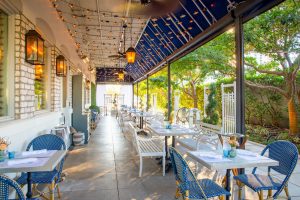 6 BLVD Place // 1800 Post Oak Boulevard #6110//713-439-1000
Upon entering this charming multi-level French American restaurant, you are greeted by a classic bakery reminiscent of cities and villages across France. The first floor of the restaurant dubbed "Marche" offers casual seating, a wrap-around bar and open-air patio with an all-day menu of light yet comforting French bistro-style fare. Upstairs, overlooking views of Post Oak Boulevard, one is transposed into modern, but unpretentious, fine dining area featuring refined French dishes, as well as modern takes on classic preparations.  Noteworthy menu items include Caramelized Cheese Souffle, Salmon Tartare, Marinated Hanger Steak and Grilled Branzino as well as Chocolate Souffles for two. An award-winning wine list and live music on Friday and Saturday make this a special date night.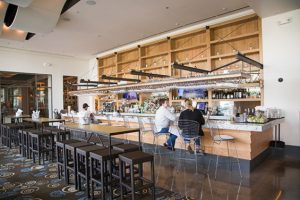 2200 Post Oak Boulevard #160//713-622-9996
Enjoy Mexican coastal cuisine from the award-winning culinary team of Chef Hugo Ortega and restauranteur Tracy Vaught. Taste sensations showcase moles, whole roasted fish, short ribs and Ostiones Asados – wood-roasted Gulf oysters with chipotle butter. Save room for the signature El Coco, a chocolate coconut-shaped shell of house made chocolate filled with coconut buttercream, coconut ganache and coconut streusel. The ambience mixes rustic and industrial, modern and traditional elements and the upbeat atmosphere is a fun place to enjoy wine, beer in sprits at the bar or when dining on the outdoor patio. If taking a date out on the weekend, their Sunday Brunch is always a great option.