The Galleria // 5015 Westheimer Road #2200 // (713) 850-0055
CHANEL upholds a commitment to style, innovation and creativity, in a tradition established by its visionary founder. Gabrielle 'Coco' Chanel reinvented fashion by transcending its conventions, creating an uncomplicated luxury that changed women's lives forever. CHANEL continues, after almost a century, to inspire women of all ages around the world with its timeless modernity. Inspired by Coco's own Paris apartment design, the CHANEL boutique in The Galleria features the designer's most coveted collections, including fashion, eyewear, fragrance & beauty, watches and fine jewelry.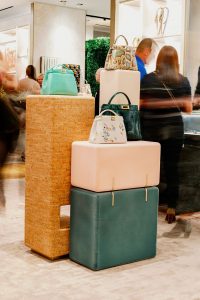 The Galleria // 5015 Westheimer Road #2115 // (713) 369-0545
Originally a furrier and leather-goods company, Fendi is globally known for unabashed extravagance. Started by Edoardo and Adele Fendi in 1925, the business was handed down to their five daughters until Karl Lagerfeld came aboard to share designing duties in 1965. He launched the house's ready-to-wear lines in 1977, creating glamorous womenswear and classically tailored menswear. Still perhaps best known for its logo-laden accessories, Fendi consistently produces some of the world's most coveted "it-bags."
6 BLVD Place // 1800 Post Oak Boulevard #6160 // (713) 626-1234 
Festari for Men blends owner Rudy Festari's idea of Italian style with his own experience and understanding of well-tailored clothes. Men of all ages appreciate the vast selection of style options, from conservative to bold.  The look is sleek, the colors are vibrant, and the feel is elegantly casual. Knowledgeable staff and a master tailor ensure purchases fit perfectly. Visit Festari for Men for a truly unique European shopping experience.
The Galleria // 5015 Westheimer Road #2422 // (713) 961-0778
Under Alessandro Michele's creative direction, Gucci has redefined luxury for the modern era with an influential, innovative and progressive approach to fashion. Top-quality, fine Italian craftsmanship is marked by eclectic, contemporary, and romantic flourishes. A newly renovated Gucci boutique debuted in fall 2018 at The Galleria housing men's and women's shoes, handbags, luggage, home decor, jewelry, watches, accessories, and select men's ready-to-wear.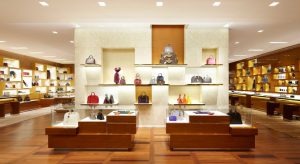 The Galleria // 5015 Westheimer Road #2490 // (713) 960-0707
Founded in Paris in 1854, Louis Vuitton is synonymous with the art of travel. Its iconic trunks, luggage and bags have accompanied journeys throughout time. Louis Vuitton extended its expertise to ready-to-wear, shoes, accessories, watches and jewelry, and continues to be a symbol of elegance and style throughout the world.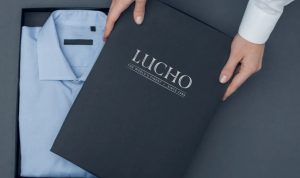 Uptown Park // 1121-12 Uptown Park Boulevard // (713) 961-3577
Lucho features men's and women's clothing tailored and suited specifically for Houston's warmer climates. In addition to in-store offerings, shoppers can order custom designs by owner Patricia Sturion. Sturion sends her unique designs to be hand-stitched in Milan and Florence, and the fabrics are purchased in Italy. A visit to Lucho is an experience – you can even taste some of the owners' favorite tequilas from Mexico while you shop!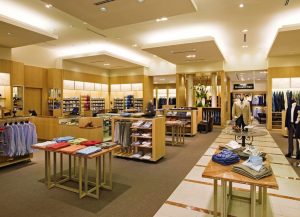 Uptown Park // 1180-06 Uptown Park Boulevard // (713) 527-8200
Only a handful of men's stores around the country make Esquire's gold list each year, but M Penner has been on it since 2000. Family-owned and operated since 1974, M Penner caters to the well-dressed man with lines such as Paul Smith, Canali, Luigi Bianchi and a dedicated Z Zegna shop-within-a-shop. The upscale boutique also offers men's footwear, women's apparel and accessories, and an extensive made-to-measure program throughout the year with on-site tailoring and full customization.
The Galleria // 5045 Westheimer Rd #X09 // 713-840-1477
Constructed as its own freestanding "jewel box" space at The Galleria, The Webster features 5,000 square feet of contemporary fashion and fine art. Its curated mix of women's and men's clothes and accessories includes high-end designer lines handpicked by owner Laure Heriard Dubreuil including Alexander Wang, Chloé, Givenchy, Pierre Hardy, Rosie Assoulin, Sonia Rykiel, Saint Laurent, Stella McCartney and Valentino.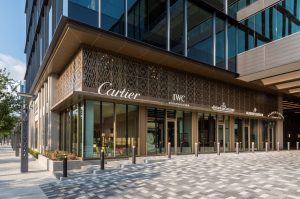 Post Oak Place // 1801 Post Oak Boulevard, Suite 100 // (713) 960-8950
Seven generations ago, Zadok family members were royal court jewelers, as well as silver and goldsmiths. Today, the family upholds the tradition and legacy, offering fine jewelry by Chopard, H. Stern, Ippolita, Tacori and Roberto Coin, as well as watches from Breitling, Hublot, and Jaeger-LeCoultre. The boutique also boasts a vast selection of certified loose diamonds and gemstones, platinum and gold engagement and wedding rings and a large selection of Montblanc pens and Baccarat and Lalique crystal.