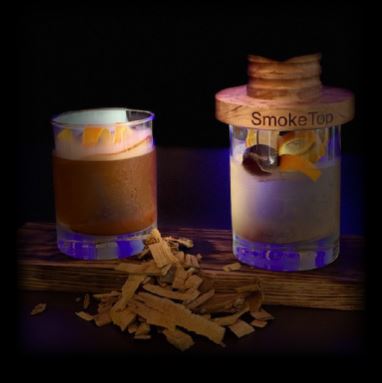 5175 Westheimer Road // 2nd Floor Saks Fifth Avenue − The Galleria // 713.963.8067
Celebrate Dad with an 8 oz filet and 6 oz lobster tail, served with mashed potatoes and asparagus for $68. And don't forget to try the Father's Day Exclusive, a smoked old fashion and tequila mezcal old fashioned (shown above).
5085 Westheimer Road // (713) 960-5997
Enjoy a good old fashioned Father's Day! Daily Grill is celebrating Father's Day with an amazing offer: DG Chophouse Burger + Old Fashioned for $25.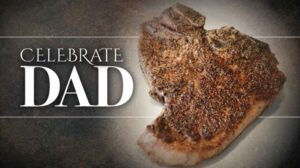 Del Frisco's Double Eagle Steakhouse
5061 Westheimer Road // Suite 8060 // (713) 355-2600
Make Father's Day special with a Del Frisco's exclusive: 32 oz Prime Porterhouse topped with Alaskan King Crab Truffle Butter.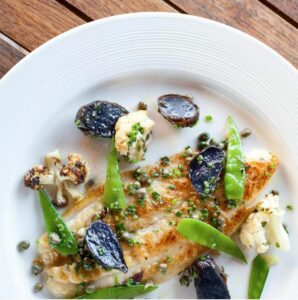 1101-11 Uptown Park Boulevard // (832) 688-5808 
Celebrate your dad with a special Bonne Fete des Papas menu at Etoile. Available June 19, from 11:00 am – 3:00 pm.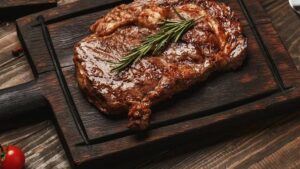 4175 Westheimer // (713) 622-3663
Dad is covered at Grotto! Treat the Dad in your life to their Signature Italian menu and special Father's Day Feature, a 12 oz Italian Seasoned Ribeye with garlic mashed potatoes and sautéed green beans, $49 per person.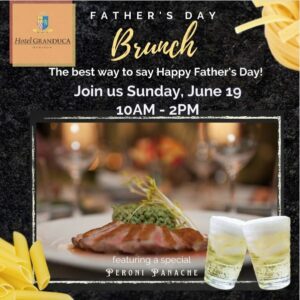 1080 Uptown Park Boulevard // 713-936-5262
Discover the magic of Uptown's 'little corner of Italy'. Join Hotel Granduca for an incredible Italian-inspired Father's Day Brunch that will feature a Peroni Panache just for Dad! Guests can also enjoy 20% off Junior and Granduca Suites on June 17th, 18th, and 19th.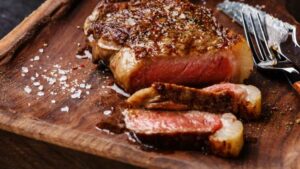 1605 Post Oak Boulevard // (832) 427-3049
For the King of the Ranch: Start a new Texas tradition with King Ranch Texas Kitchen! Indulge in a 16 oz ribeye with tempura shrimp and a side of roasting fingerling potatoes and roasted cauliflower.
1151 Uptown Park Boulevard // Suite 01 // (713) 840-7900
This Father's Day has surf & turf! Treat him to a legendary 3-Course that he is sure to appreciate, including crab and shrimp stuffed salmon, 8 oz west Australian lobster tail, 13 oz U.S.D.A. choice new york strip, and 20 oz bone in ribeye.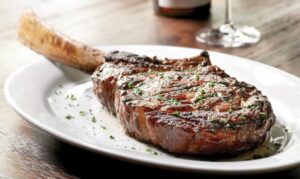 1650 West Loop South // (713) 993-2500
Father's Deserve the Finest! Treat dad to a first-class dining experience with USDA prime steaks seasons to perfection, flavorful seafood, signature sides and decadent desserts.
5000 Westheimer // Suite 190 // (713) 629-1946
A legendary cuisine for legendary dads. Enjoy a 17 oz roasted prime rib with au jus and whipped horseradish. And don't miss this Father's Day Exlusive: Man of the Hour specialty cocktail made with WhistlePig PiggyBack rye, WhistlePig barrel aged maple syrup, fresh lemon juice, and Rodney Strong merlot.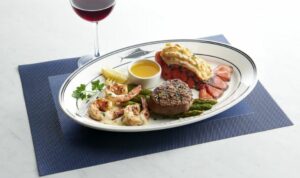 5061 Westheimer Road // (832) 487-8862
Dine with dad at the Oceanaire seafood room. Treat your loved ones to a filet mignon mixed grill featuring a 6 oz. filet with lobster tail, shrimp and asparagus for $69. 
1101 Uptown Park Boulevard // Suite 12 // (713) 726-8273
It's never too early to celebrate our fathers! Take dad to Urbe for a beautiful brunch complete with a special Father's Day menu with a three course meal and a dessert bar for $49 per person.